In season, for the latest blueberry info., please phone the farm at 207-457-1435; visit our Home page; or visit our Facebook page. You can also subscribe to our email list to receive email notifications when each fruit ripens.
Typically, they are ready mid-August.
We always recommend -- especially if you are traveling a long distance -- to please call the farm before heading out to confirm that we are open and find out what the latest status is on blueberry, raspberry or peach picking. It takes just a moment to give us a call before heading out. Conditions can vary from day to day and even hour to hour. We are a small, family-run farm and may need to close the farm unexpectedly due to weather, etc. We do our best to quickly post any updates to our website and Facebook pages to keep our customers informed, but you can always get the latest info. by calling: 207-457-1435.
Sorry, we do not allow dogs on the farm--not even left in your parked car. There is no shady parking and your pet will be more comfortable if left at home.

To ensure that everyone has a nice, relaxing time when visiting the farm, please obey the farm speed limit of 5mph ANYWHERE on the property. We are a family-friendly farm and there may be small children or our farm dogs anywhere at any time.
Answer: In the winter we enjoy traveling, going out to breakfast, and volunteering with several different local organizations. And then in the spring most of our time is spent getting ready for the next picking season.
We open for blueberry picking starting Saturday, July 15, 2023. There are no late nights this year. Any day we are open we close at 4pm. After July 15th, open days are Wednesday - Saturday, 8am-4pm and Sundays 9am-4pm. Note the LATER START TIME SUNDAYS: 9am. CLOSED MONDAYS AND TUESDAYS.
Wild blueberries grow naturally along the Maine coast, especially in the "Down East" area. These berries are small and grow close to the ground. Maine is the #1 world wild blueberry producer. These berries are picked primarily for the frozen and processed market. Cultivated high bush blueberries were developed by researchers 60 - 70 years ago by selectively breeding "wild" high bush blueberries. These are now often referred to as the "BIG" berries. These are marketed as fresh berries and are what you are picking here at Berry Best Farm. We have eleven different varieties that extend the ripening season from mid-July through August. Do they taste the same? Yes, but many people prefer one over the other. They are nutritionally the same!
We will provide picking totes. You can bring your own container if you want to.
Answer: No, we do spray our fruit as needed to control certain pests. All of our fruit is grown using minimal amounts of herbicides and pesticides. We use IPM (integrated pest management), low-spray conventional agricultural practices.
Birds love blueberries and can "harvest" up to 10 percent of our crop! They "pick" early morning and early evening when you are not there. We have added this electronic bird alarm system to serve as a deterrent for the flocking birds such as Starlings. The screeching sound simulates a bird in distress, hopefully keeping the birds away. It is only partly effective however.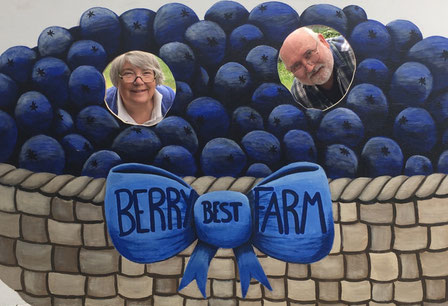 Answer:
Take a Photo in Our Blueberry Basket Sign: A local artist painted a beautiful blueberry basket cutout board for photos. It makes a great souvenir of your day spent at the farm.
Take a Stroll: Take a half-hour stroll through the woods on our new forest trail. Pick up a map at the farm store before heading out.
Bring a Picnic Lunch: We have a picnic table adjacent to the fields if you would like to bring a lunch.
Visit the Town Pound: Stop and see the Lebanon Town Pound on your way down Center Road. A stone structure built in 1813 to hold stray farm animals.
Play Some Golf: You will pass Lebanon Pines Golf Course on your way down Center Road coming to the farm. It is a great low-key place to play nine holes.
Visit Prospect Hills Winery: They craft 15 unique wines from their 13 different grape varieties. They offer wine tastings, vineyard tours, and grape harvesting. Located at 318 Orrills Hill Road, Lebanon. Phone: 207-651-9335 www.ProspectHillWines.com
Answer: You can enjoy our berries all year 'round by freezing them. Just spread fresh berries out on a cooking sheet one layer thick and put them in the freezer for a few hours. Do not wash berries! After they are frozen you can put the berries into a freezer storage bag and store the freezer. You can have delicious berries all through the winter!
Answer: Yes, with permission in advance, you are able to drive your car to the edge of the blueberry fields.
Answer: Yes, we have a frequently maintained porta-potty.